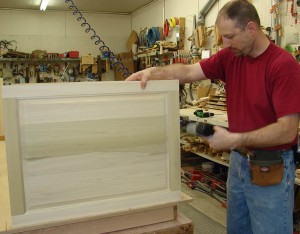 We appreciate your interest in Charles R. Bailey Cabinetmakers. Charles R. Bailey Cabinetmakers has been serving the local needs for custom cabinetry and furniture for many years. Locally we operate a cabinet shop which goes by the name of Eagle Cabinets. Since 1988, Eagle Cabinets has been making custom cabinetry for thousands of people both residential and commercial. This company still serves the needs of the local region of North Central Arkansas. We take great pride in building each piece of furniture and cabinetry we make. It only leaves our shop once we have achieved the highest quality, given the amount of time, tools, talent, materials and technology available to us. Charles R Bailey Cabinetmakers has become a signature of quality, integrity and excellence.
At this time we would like to introduce you to Charles R. Bailey Cabinetmakers
Charles R. Bailey Cabinetmakers is the name given for our furniture for the multi-chemical sensitive.
There are three main reasons for:
Charles R. Bailey Cabinetmakers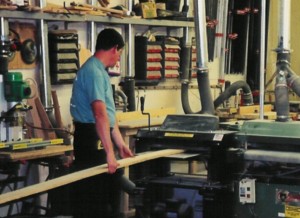 First and foremost, we hope that it provides you, the customer, a place to purchase cabinetry and furniture that you can tolerate. A chance for a burden free environment. We want to help each person and family eliminate the burden of our toxic environment. Charles R. Bailey Cabinetmakers creations should give each person the enjoyment of owning a piece of cabinetry or furniture created especially to serve that person. It will not take from you, but only give. The opportunity to give you a second chance, a second life.
Second, it gives the tree, which was created for a purpose, by its creator, a second life. Trees were put here for a reason, to give of itself to creation and glorify its creator. The gift of life is precious, we must protect and guard against shortening it. We strive to extend the life of the tree that sacrifices itself for our use. The furniture created by this vital part of our environment gives the tree a second life. If properly used and cared for the second life of the tree will last longer than its first life.
And finally Charles R. Bailey Cabinetmakers gives us, the cabinetmaker, a second chance. Charles' life has been dedicated to cabinet making and furniture making. Through much struggling and many health problems, he has found it hard to work around the field and occupation of modern day cabinet making. The usage of plywood, laminates, veneers, glues, toxic finishes, formaldehyde, etc. . . has taken a great toll on Charles and his family. We have had to continually find ways to keep ourselves away from these products. Through much time, effort, study and many doctors visits of various fields, we have come up with furniture designs exclusively for the multi-chemical sensitive, not only for you but for us, so that we can stay in the field of cabinetry we enjoy so much. To give Charles a second chance – A second life.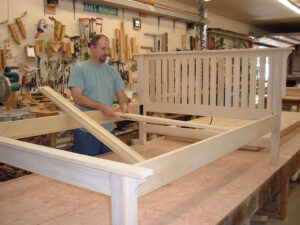 We hope and pray that we can use our God given abilities to help someone else in their struggles of making their lives more enjoyable and meaningful. Life has a much larger purpose than to always be overwhelmed and burdened by modern day chemicals. It is time to get back to natural creations possibly handmade by man (not man made materials or man simulated materials).
Charles R. Bailey Cabinetmakers is dedicated in continuing the movement of – putting back – to serving our world and earth instead of always taking. Good stewardship of materials used in our furniture and cabinet making, along with environmentally safe finishes is our mission. Our goal is to be known as a company and individuals that gave and did not take from our generation and future generations.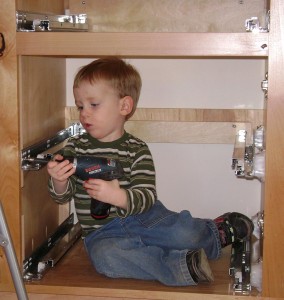 Charles R. Bailey Cabinetmakers provides natural creations built and designed to last a lifetime. All furniture is hand-crafted, individually made exclusively for the customer. Special attention is paid to the customer and their needs, functions, budget, design and desires. We already have many designs to choose from, but specialize in doing custom commissions for the individual or company. All of our furniture is designed to function and serve the purpose for whom it was made, without infringing upon the vital life of the environment or the individual. All materials are natural. Construction of our furniture is of solid American hardwoods milled and seasoned without chemicals, pesticides, mildecides and colorants. Great effort has and will be taken to keep each piece of furniture and cabinetry as natural and chemically free as possible. Finishes have been extensively researched and selected to be as chemical free and safe as possible. Proprietary waterborne finishes have been developed for this reason. Special consideration is taken on the finish and the customer is given the chance to choose or recommend a finish he or she prefers. The choice is always the customers, and we want you to feel comfortable with the decision. Some of our very sensitive customers prefer their project left unfinished.
If you are in need of "Kitchen Cabinetry" look no further. We custom build kitchens, baths, complete cabinetry for your house using the same techniques. We can help design and build your cabinetry to fit your needs, styles and budget.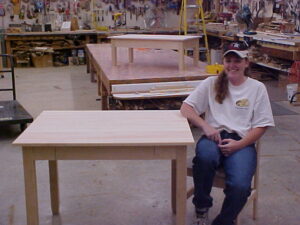 Once again, we would like to personally Thank You for your time and interest in our company and the products we make. We hope that our company will be able to fulfill your needs in the near future. We are excited to be given the chance to make your life peaceful and fulfilling.
"A Sensitive Kind of Guy"
Charles R. Bailey
Charles R. Bailey Cabinetmakers
T.G.B.T.G.
(To God Be The Glory)